Mission Statement
We are a customer service driven company offering a wide variety of automotive services while aligning ourselves with our customers' needs and values. Our relentless commitment to exceptional customer service and upholding our standards of trust, honesty and loyalty is what defines us as a company. We provide excellent product quality while striving to exceed customer and employee expectations.
Calridge Automotive Repair is owned and operated by Patrick and Danielle Calon. We've been asked "where did you come up with Calridge?" The simple answer is a mixture of Patrick's last name, Calon (pronounced K-lynn) and Danielle's maiden name Bridge. The deeper meaning of Calridge to us is commitment, honesty & family.
Patrick is a Red Seal Automotive Service Technician with over 20 years experience in the automotive service industry. Patrick moved to Red Deer 17 years ago to go to school. He fell in love with Red Deer & area and decided to make it his home.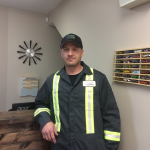 Landon Campbell is our 3rd year Apprentice Automotive Service Technician. He has been Patrick's apprentice since starting in the trade in 2013. Landon is a great employee and will one day be a great Journeyman Technician.